The mission of the Suzi Bass Awards is to celebrate and promote Atlanta professional theatre through the evaluation and recognition of excellence.
Our vision is of Atlanta as a vibrant home for numerous professional theatres that entertain extensive audiences with quality productions, provide a livelihood for a large and diverse family of theatre professionals and draw ever-growing attention and business to the greater Atlanta area.
The 12th Annual Suzi Bass Awards!
at The Porter Sanford III
Performing Arts & Community Center

Monday, November 7, 2016 at 7:00 pm
Doors open at 6:00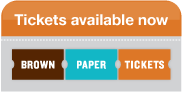 *Guests with Special Pricing tickets will receive a discount code via email beginning October 3.
Don't Forget to Vote In the Audience Choice Awards for Theatre Outstanding Season!
Click on the individual Theatre pages and Vote for Your Favorite to Win the Audience Choice Award for Outstanding Season
Suzi Recommended Shows: ON STAGE NOW
January 1 - November 15
SUZI THEATRE PLEDGE 2016
Show our theatres some extra love by pledging to see 16 shows in 2016!
|
more info >>
January 1 - November 5
AUDIENCE CHOICE AWARDS VOTING!
Vote for your favorite theatrical season now!
VOTING for the 2016 Audience Choice Award closes on Saturday, November 5, 2016 |
more info >>
November 7
THE 12th ANNUAL SUZI AWARDS CEREMONY
Information and Ticket
purchase
for the Suzi Awards Ceremony. Join us for a great night of celebration, songs, food, and fun! |
more info >>